About the Author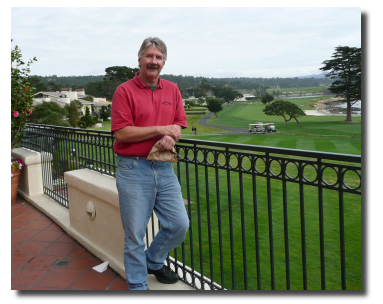 The author of Frustration Free Golf is James Bradley, of Lethbridge, Alberta, Canada, aka "Chipper Jimmy," aka "Jim."
Jim is an airline pilot, and flies, mainly overseas, for a major international carrier.  He has assaulted the little white ball on five continents.
Starting golf later rather than sooner, he tried to advance rapidly, as he had done in just about any other activity he had ever tried.  (Besides being capable of flying jet aircraft, he was a Dean's Honor List student in university, and has been a champion shotgun shooter as well.)  But golf is… well, golf is golf.
Because golf is golf, it is way harder than flying, getting good grades, or shooting clay pigeons.  (Those activities actually reward conscientious effort!)  Soon, Jim bumped up against the "frustration ceiling."
As stated in the intro to "Frustration Free Golf," Jim has thrown and busted clubs, and drowned clubs and balls.  Usually reliable sources indicate that his golf bag has occasionally suffered, too.
But that was in the past.  Today, Jim plays frustration free, using the techniques he details in Frustration Free Golf. 
Playing frustration free doesn't mean playing so well that you don't get frustrated.  (Jim's best ever score for 18 holes is 5 over par, and most of the time he plays way worse than that!)  Playing frustration free means playing without frustration, and with enjoyment, no matter what you score.  It can be done!  Read and use the techniques in Frustration Free Golf!